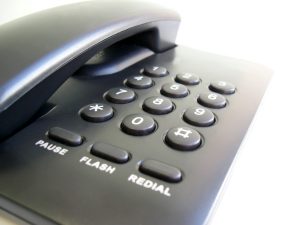 Most of us have watched enough TV crime dramas to be familiar with the scene in which a recent arrestee asks for his "one phone call." While this convenient plot device for scriptwriters has become something of a Hollywood cliché, it doesn't accurately reflect the workings of the jail system in every case. So let's take a look at the real-world factors involved.
The Law
The Sixth Amendment to the U.S. Constitution guarantees citizens certain rights in the event of an arrest. Among these are the right to a speedy public trial by a jury of your peers, the right to confront directly the witnesses against you, and the right to counsel. 
In 1977, the case of Brewer v. Williams further defined the limits of the law, ruling that a defendant is entitled to counsel "at or after the time that judicial proceedings have been initiated." Such proceedings, according to the Supreme Court's decision, include formal charge, arraignment, indictment, or preliminary hearing.
What all this means, in essence, is that you are entitled to contact counsel promptly after arrest, and before any hearing or arraignment. 
Police Discretion
Arresting officers have a fair amount of latitude when it comes to allowing arrestees to communicate with attorneys, loved ones, employers, etc. Much depends upon the circumstances surrounding the arrest, the severity of the charges, and the way in which you behave when interacting with police.
Factors that could delay your ability to get to a phone include:
A particularly severe crime or charge.

The circumstances of your arrest (fleeing, resisting, evading, or fighting officers can delay your access to a phone).

The way you behave when in custody

Medical issues that delay your arraignment
In cases of minor offenses (and if you are cooperative), officers may elect to allow you to call family, employers, or an attorney from your cell phone prior to being arrested and booked.  In other cases, you may have to wait until the booking process is complete in order to get phone time in jail.
Is It Really Just One Call?
The short answer here is: no. When you are allowed to use a phone in jail, you may contact anyone who might help you. If your call fails to go through, you can try again or call another source of aid. Again, much depends on your relationship with jail staff. A combative or hostile attitude is likely to delay your access to a phone. And bear in mind that waiting lines for phone time can be long, especially if you are being held at a crowded facility, and you may have to contend with other arrestees attempting to contact their families, lawyers, etc.  
Whom to Call
Whom you contact first after an arrest is your choice. Frequently, arrestees call a family member or an employer, so arrangements can be made for their absence. Contacting an attorney is also essential—both in beginning to prepare your defense and to ensure that all your civil rights are being honored.
You also may want to contact a licensed bail bond agent to begin the process of securing your pretrial release. For many less severe offenses, the court provides a schedule of bail fees, so you'll know in advance how much you'll need to raise in order to make bail. And remember, by working with a bond agent, you gain some important advantages
You pay only a fraction of the total bond amount, usually around 15%.

You can continue to meet family and work obligations while awaiting trial

You can take a more active role in your defense

And by working with an experienced bond agent, you can be sure to make all court dates.
If you or a loved one has been arrested and charged with a crime, don't delay. Connect with one of our representatives at Bond James Bond. You'll be glad you did.
---
Bond, James Bond, Inc. can handle any size or type of Georgia bail bonds in Barrow County, Bartow County, Cherokee County, Clarke County, Cobb County, Floyd County, Gordon County, Gwinnett County, Paulding County and Polk County. We are always open - 24 hours a day, 7 days a week, including holidays. We have 11 locations that are conveniently located to serve you better.