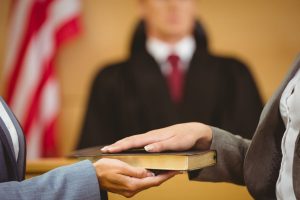 Being arrested and charged with a crime can be a difficult time, both for defendants and their families. If this is your first encounter with the criminal justice system, you'll likely have many questions about your case, the charges facing you, and how to proceed. After being arrested, you may want to enlist the services of a reliable bail bond agent.
One frequently asked question is whether you'll be required to take the stand at your own trial. Under U.S. law, all defendants are presumed innocent until proven guilty, and no defendant is required to testify in their own defense. In most cases, defense attorneys choose to build their cases and create reasonable doubt, without asking their clients to take the stand, but there are some situations where your testimony as a defendant could help your case. Let's look at some examples of the ways that your testimony could help (or harm) your defense.
Taking the Stand in Your Own Defense: The Pros
If you've been charged with a crime and feel that you are innocent or that you've been treated unfairly, you may be eager to take the stand to prove your innocence, to report police abuse, or to enter your account of events.
Some advantages of taking the stand include…
You get to deliver your viewpoint firsthand. Some defendants are eager to tell their side of the story. And if your attorney feels that your testimony would strengthen your case, he or she may recommend that you testify.
You can provide details that may prove your innocence or reduce your culpability. Your attorney may feel that your testimony is particularly necessary or compelling because it introduces new evidence or a new theory of the crime that supports your innocence.
You can support the narrative your attorney has built for your defense.  It is the job of your defense attorney to construct a narrative that supports your innocence. If your attorney feels your testimony is an important part of this narrative, he or she may recommend that you testify.
The ultimate choice of whether you take the stand is yours—not your lawyer's—however, your attorney has likely built years of trial experience and can best advise you on whether it's best to testify yourself.
Taking the Stand in Your Own Defense: The Cons
As a defendant, you may be eager to tell the court your account of the events leading to your arrest. But your first-person testimony may not be the best course for your defense. Defense attorneys frequently choose to spare their clients from the experience of testimony and cross-examination, and there are some sound reasons for that.
Here are a few reasons your attorney may keep you out of the witness box…
You may unintentionally incriminate yourself. While no defendant is required to provide testimony that incriminates him- or herself, defendants have and do make unconscious admissions while under oath, and these could damage your defense.
You may damage your own credibility. Defense attorneys like to create a narrative that puts your case in the best light. That means knowing how to present the facts of the case in a way that sways a jury. But if you do not connect well with the jury, your testimony could actually make you appear guilty even if you are not.
You may not hold up well under cross-examination by prosecutors. It is the job of the prosecution to find inconsistencies in your defense, and they are allowed to be both aggressive and pressing in their pursuit of a conviction. If your attorney feels that you may not do well under cross-examination, he or she may recommend that you not take the stand.
Whether or not you choose to take the stand, it is important to consider how your testimony could affect the outcome of your case. In such situations, a skilled defense attorney is your best ally, because they have likely faced similar challenges before and can best decide whether your testimony would help or hurt your case.
At Bond James Bond, we understand how stressful an arrest can be. That's why our licensed agents stand committed to helping our clients understand the bail process, secure pretrial release, and meet all obligations to the court. If you or a loved one has been arrested and charged with a crime, contact us today—we're here to help!
---
Bond, James Bond, Inc. can handle any size or type of Georgia bail bonds in Barrow County, Bartow County, Cherokee County, Clarke County, Cobb County, Floyd County, Gordon County, Gwinnett County, Paulding County and Polk County. We are always open - 24 hours a day, 7 days a week, including holidays. We have 11 locations that are conveniently located to serve you better.