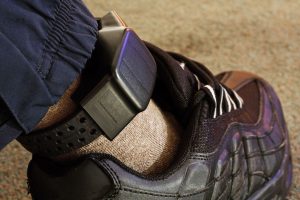 If you or a loved one has been arrested and charged with a crime, it can be a stressful and confusing time. But not all defendants are required to await trial in jail. Some are granted pretrial house arrest and are permitted to await trial at home—under certain restrictions and while monitored by an electronic device. Let's take a closer look at house arrest and how it works in the pretrial setting.
What Is House Arrest?
In the U.S. criminal justice system, house arrest (also called home detention or home confinement) is a useful tool in reducing repeat offenses and combatting jail and prison overcrowding. There are two principal types of house arrest:
Pretrial home confinement:

A court may sentence a defendant to house arrest while awaiting trial.

Home confinement as a sentence:

A court may sentence a defendant who has been convicted of an offense to serve his/her time under electronic monitoring at home, rather than in a state facility.
In each case, the court sets specific terms for the house arrest agreement, which must be signed by the defendant. These may include: refraining from illegal activity, staying clean and sober, and refraining from contact with certain people. Failure to abide by the rules of the agreement may result in its revocation and the return of the defendant/offender to jail or prison.
How Does House Arrest Work in Georgia?
House Bill 206, which took effect on July 1, 2009, defines specific standards for home electronic monitoring in the state of Georgia. The law was created to ease jail overcrowding by allowing less serious offenders who are unable to post bail to await trial at home, under house arrest.
Under the law, house arrest serves as an alternative to a bond arrangement. Use of the house arrest provision is at the discretion of the court, and only a judge or magistrate can grant a defendant house arrest in lieu of bail.
To qualify for pretrial electronic release, defendants must sign a release agreement and abide by its terms. These terms are determined may include the ability to leave home for specific purposes such as maintaining employment and shopping for groceries. Defendants on house arrest must honor all restraining orders, must provide child support (if applicable), and must refrain from violating any laws or ordinances. Failure to abide by any of these terms can result in revocation of the agreement, and the defendant's re-arrest.
Monitoring of defendants awaiting trial on house arrest is conducted by the monitoring service company, which acts as a bond agent. The monitoring company is responsible for the capture of escaped defendants, as well as for the payment of bond fees in the event of a "skip." Monitoring devices must be external (i.e., worn, not implanted) and providers must give the court a contact person (available 24/7 for questions) as well as real-time GPS tracking info on each defendant under their supervision. Provider companies that fail to meet these or any other criteria outlined by the courts may be removed from the electronic home monitoring approved list by a sheriff.
Who May Qualify for House Arrest in Lieu of Bail?
While all final determinations are made by the court, defendants are more likely to be granted house arrest if they…
- Are charged with a less serious offense
- Have no history of violent crimes
- Have a stable source of income
- Have work or family obligations
- Are unable to post bail
If you believe that you or a loved one may be a candidate for pretrial home detention, consult with your attorney. They can provide helpful information about the process and what you can expect.
At Bond James Bond, we know how quickly an arrest can turn your life upside down. That's why we work with clients and their families daily to help them secure pretrial release. Why await trial in jail? Contact one of our licensed bond agents today, and learn how we can help.
---
Bond, James Bond, Inc. can handle any size or type of Georgia bail bonds in Barrow County, Bartow County, Cherokee County, Clarke County, Cobb County, Floyd County, Gordon County, Gwinnett County, Paulding County and Polk County. We are always open - 24 hours a day, 7 days a week, including holidays. We have 11 locations that are conveniently located to serve you better.