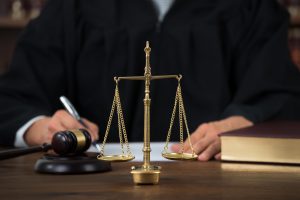 If this is your first encounter with the criminal justice system in the state of Georgia, some of the routine protocols and procedures might seem confusing. One common question is, "Will my bail be set by a magistrate or a judge?" To provide a complete answer, we must look briefly at the order of events for a defendant in Georgia.
Initial Court Appearance
After you are arrested and booked, the state has a limited time to bring you before a judge or magistrate for an initial appearance in court. It is at this appearance that the state must declare the official charges against you. As a part of the judicial due process, the initial appearance takes place in the magistrate court. If you were arrested under a warrant, your initial appearance must occur within 72 hours from the time of the arrest. If you a were arrested without a warrant (for example, at the scene of a crime), the initial appearance must occur within 48 hours from the time of arrest (see Georgia Code, Section 17, Title 4).
Setting Bail
At your initial appearance, the judicial officer has two options. He or she may either set a bail amount at that time, or set a date for a commitment hearing at which bail will be set. If you remain silent while the judge sets bail, you waive the right to a commitment hearing. You can, however, later petition for a lower bail through your attorney.
In the state of Georgia, initial appearances usually occur in magistrate courts. So for misdemeanors, the magistrate will typically set a bail amount at that time. However, in the case of felony arrests, only superior courts have jurisdiction, so a superior court judge is the only person who can set bail for a felony offense. If your initial appearance on a felony charge occurs before a magistrate, that magistrate must then set a date for a commitment hearing. If the magistrate does not set such a date, it is essential that your attorney file a bond motion. This motion ensures that bail is set and that you have an opportunity to post bond, rather than awaiting your trial date in jail.
Amending Bail
In cases where bail seems excessive in proportion to the offense or places an undue financial burden on the defendant, you may (through your attorney) petition the court for a reduction in bail. However, any alteration in the bail amount would be addressed at a later date and not at your initial court appearance or bail hearing.
Conclusion
Essentially, according to Georgia law, the person who sets your bail depends on the nature of the offense. The general rule is that bail for minor offenses can be set by a magistrate at the initial court appearance (though the magistrate can opt to set a commitment hearing at a later date for that purpose)—but bail for felony offenses must be set by a judge. We hope this information clarifies what can often be a confusing issue, and makes you a better advocate for your own defense.   
Need A Bail Bondsman
Should you ever find yourself or a family member in need of a bail bondsman, please call Bond James Bond, Inc. We have 11 locations that are open 24 hours a day, 7 days a week to serve you quickly.
 ________________________________________________________________
Bond, James Bond, Inc. can handle any size or type of Georgia bail bonds in Barrow County, Bartow County, Cherokee County, Clarke County, Cobb County, Floyd County, Gordon County, Gwinnett County, Paulding County and Polk County. We are always open - 24 hours a day, 7 days a week including holidays. We have 11 locations which are conveniently located to serve you better. Visit us at www.bondjamesbondinc.com, or call Bond, James Bond, Inc. at (770) 382-9111.