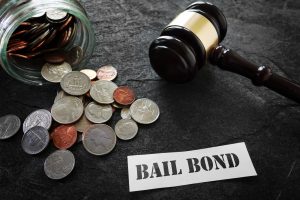 In today's competitive economy, most of us have learned that we can find a bargain if we do a little comparison shopping first. But does this apply to bail bond agents? And can you get a cheaper rate by shopping around?
To answer these questions, we need to look at several factors—some that determine what a defendant's full bail amount will be, and at others that determine what percentage of that amount a bail bond agent can charge as a premium.
What Determines a Defendant's Full Bail Amount?
A defendant's bail amount can be set in several ways. The most common is at what is called the first court appearance. This is when a defendant is first brought before a judge or magistrate to hear the charges being brought against them. The bail amount is determined by state guidelines for the specific offense(s), the defendant's past criminal history (if any), and the likelihood that the defendant will meet their scheduled court appearance dates. Those defendants considered a danger to the community or a high flight risk tend to receive higher bail amounts. These determinations are at the discretion of the judge or magistrate.  
For misdemeanors and some low-grade felonies, many communities have streamlined the process by creating what is called a bail "schedule." These schedules help defendants know (approximately) how much money they'll need to raise to secure bail.
What Determines How Much a Bond Agent Can Charge?
The amount a bail bond agent can charge is determined largely by the state's Insurance Commission. Amounts are determined by the percentage of the total bail amount and typically range from 10% to 15%. This amount or "premium" is not refundable to the defendant and compensates the bond agent for their services. A bond agent does have limited discretion within these limits to raise or lower the premium, depending on their confidence in the defendant to make all scheduled court appearances.
Can You Really Get a Bargain on a Bail Bond?
Although many of the cost elements of the bail system are governed by state and federal law, as well as by the discretion of judges and bond agents, the real value resides in the experience, professionalism, and convenience of your bail bond agent. Here are a few tips to help you get the most value from your bond agent.
Work with an experienced bail bond agent.
When you or a loved one has been arrested, an experienced bail bond agent can be your best ally. They can explain the process to you and tell you what you can expect. They can also review your court appearance dates with you to ensure that you make all scheduled court dates. That's why you'll want to work with an agent who's put in a few years in the business.
Work with an agent who's trusted in the community.
If the defendant was arrested locally, you'll probably want to work with a bond agent who's close to home. This will minimize back-and-forth travel time and make life a little easier for you. You can also do a little online research to learn how other clients have reviewed a prospective bond agent's services. An experienced bond agent will be clear, upfront, and professional about all phases of the process, especially fees.
Work with an agent who's reachable and responsive.
It can be frustrating to call your bond agent with an urgent question only to find that their offices are closed. Try to work with an agent who is reachable 24/7 and who will answer all inquiries promptly.
At Bond James Bond, we have over 20 years of experience in the surety industry and a have built a solid reputation based on quality customer service. Our agents are seasoned professionals with a deep understanding of the bail process, laws, and regulations—including any quirks or irregularities that might confuse a novice.  
_________________________________________________________________  
Bond, James Bond, Inc. can handle any size or type of Georgia bail bonds in Barrow County, Bartow County, Cherokee County, Clarke County, Cobb County, Floyd County, Gordon County, Gwinnett County, Paulding County and Polk County. We are always open - 24 hours a day, 7 days a week including holidays. We have 11 locations which are conveniently located to serve you better. Visit us at www.bondjamesbondinc.com, or call Bond, James Bond, Inc. at (770) 382-9111.