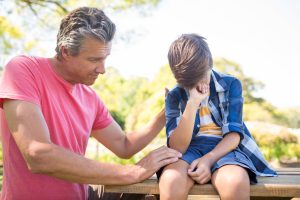 The arrest of a parent, sibling, or other loved one can be traumatic for any child. While many kids have some idea of what an arrest is, few if any are emotionally prepared to see someone they love led away by the police. So how can you best explain an arrest to children without increasing their fear, sadness, or anger? There is no one-size-fits-all answer, but there are some techniques you can use to help minimize the emotional trauma of an arrest for kids.
Be Truthful
We all want to protect our kids from the harsh realities of the world, but experience has proven that it is better to be truthful than to invent a pleasant fairy tale that won't hold up to later scrutiny. That doesn't mean we need to reveal every detail—as these may not be appropriate for young children. But when explaining an arrest of a loved one, it is important that the statements you make are true.
Bad People vs. Bad Choices
Kids often believe that "only bad people get arrested" or that "jail is where bad people go." These beliefs can be hard to reconcile with the arrest of someone a child loves and trusts. A child may ask, "Does this mean Daddy is a bad person?" It may help to explain that just as certain behaviors are not acceptable at home or in school, some behaviors are not acceptable in society. Pre-school children who understand the concept of a "time-out" and school-age children who understand the concept of "detention" may be able to better process the idea of an arrest in these terms. This approach also emphasizes the idea that an arrest is a result of making a bad choice, not of being a bad person.
Choose Words that Are Age-Appropriate
Children's emotional vocabularies grow as they grow. A teen understands and processes information far differently than a toddler. So tailor your explanations to the age of the child. A preschooler may need to be reassured that, "Daddy won't be hurt," or that, "The police aren't here to hurt you—they just need to talk to your mom." Young children can believe that the arrest of a loved one is somehow their fault. Reassure them that this is not so and that their loved one will be able to talk to them again soon. A teen may be openly hostile to law enforcement or try to intervene to prevent an arrest. In such cases, do your best to de-escalate the situation. You may reassure the teen that "this is not the time to fight back" and that there are lawyers whose job it is to ensure that their loved one is protected and represented. Small children may ask "Who'll take care of us if Mom's in jail?" Assure them that they will be cared for, either by you or by another adult whom they trust, and make appropriate arrangements for their care. Kids often want to know when they'll be able to see or talk to their loved one next. Be as truthful as you can, and let them know that once the trouble is sorted out, there will be time for phone calls and visits.
Be Encouraging
One of the most difficult things for a child to process the arrest of a loved one is the uncertainty it brings with it. If you find yourself caring for a child whose parent or sibling has been arrested, try to focus on the positive. Plan phone calls and visits together and take an active interest in those parts of the child's life that are most important to his or her day-to-day sense of stability and well-being—sports, games, friends, school—whatever makes them feel connected and centered in the world. And most importantly, let them know they are loved.
We hope these tips help you address the concerns the children in your family may have, and hopefully ease the process of explaining the arrest of a loved one to them.
Need A Bail Bondsman
Should you ever find you or a family member in need of a bail bondsman, please call Bond James Bond, Inc. We have 11 locations that are open 24 hours a day, 7 days a week to serve you quickly.
---
Bond, James Bond, Inc. can handle any size or type of Georgia bail bonds in Barrow County, Bartow County, Cherokee County, Clarke County, Cobb County, Floyd County, Gordon County, Gwinnett County, Paulding County and Polk County. We are always open - 24 hours a day, 7 days a week, including holidays. We have 11 locations that are conveniently located to serve you better.