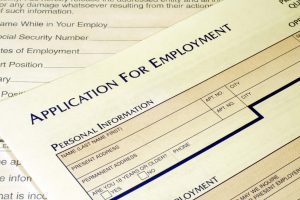 One of the greatest challenges facing the ex-offender is securing steady employment. Many employers are hesitant to consider applicants with criminal records, and the job prospects for those with a prior felony conviction are often limited. But the news isn't all bad. Here we'll take a look at some ways the formerly incarcerated can find steady work.
Focus on Your Skills and Abilities
One of your best assets in finding employment is a positive attitude. That is, focus on what you CAN do, not on what you have done. So it's worth taking a few minutes to list the skills you have. Maybe you've worked in construction, food service, or automotive repair. Or maybe you've got a natural talent for sales. These abilities are going to be the cornerstones of your job search, so be sure to put them to work for you.
Family, Friends, and Counselors
One of the best ways to find work—whether or not you have a criminal record—is through personal connections. Maybe you have a friend or family member who's willing to hire you at their business, at least until you regain your financial footing. Such opportunities can help you re-establish a work history and can provide a valuable reference for prospective employers in the future. A good counselor who has helped to place other ex-offenders will also have some useful knowledge gained from experience. Even if the field of work offered isn't your first choice, consider it seriously, as it could be your first step toward the job you really want.
Job Fairs
Job fairs provide another way to put yourself out there for prospective employers to see. Though you will be competing with other job seekers, a job fair is a good way to build your confidence and sharpen your interpersonal skills.   You'll also be making face-to-face connections with representatives from prospective employers who can offer advice on current openings that fit your skills.
Pounding the Pavement
If you already have a solid idea of the kind of work you'd like to do and the community where you'd like to work, you might want to go old school and hit the pavement. Cold calling on prospective employers can be hard, but it lets you show them that you're serious about finding work and that you're committed to turning your life around. And even in the internet age, it never hurts to fill out a few applications in person.
Organizations that Can Help
There are also organizations devoted to helping ex-offenders gain employment. Exoffenders.net, 2nd Chances 4 Felons, and Help for Felons. Most of these sites let you search locally for employers in your area who accept applications from parolees and those recently released from prison. Many of these websites also provide help in other employment-related areas, such as resumé writing, securing part-time work as a stepping stone to full-time employment, and starting your own business.
You can also find information on programs to assist in recovery from substance abuse, and those that help ex-offenders get permanent housing. In Georgia, for example, there are programs like Prisoner Reentry that can help ex-offenders get steady employment. Some online research can help you find an organization that's familiar with job opportunities in your area.
We hope these tips help you find success in your job search. Should you ever find yourself charged with a bailable offense, you will need a reliable, experienced and efficient bail bondsman in your area such as Bond James Bond, Inc.
---
Bond, James Bond, Inc. can handle any size or type of Georgia bail bonds in Barrow County, Bartow County, Cherokee County, Clarke County, Cobb County, Floyd County, Gordon County, Gwinnett County, Paulding County and Polk County. We are always open - 24 hours a day, 7 days a week, including holidays. We have 11 locations that are conveniently located to serve you better.