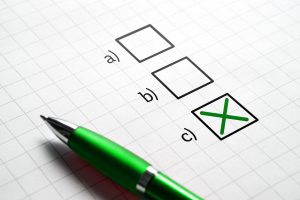 If you're interested in a dynamic and rewarding job that goes beyond the 9-to-5, you might want to consider work as a bail bondsman (also called a bail agent). Currently, there are about 15,000 bail bonds agencies in the U.S., with regulations and application requirements that vary from state to state. Here we'll walk you through the steps needed to become a licensed bondsman in the state of Georgia.
Eligibility
In Georgia, bail bondsmen are licensed by the state, but candidates must also receive approval for licensing from their local county. So first, let's look at the state requirements.
1. You must be 18 years of age or older.
2. You must be a Georgia resident for at least one year.
3. You must have a clean criminal record (no felony convictions).
4. You must be a citizen of the United States.
5. You must complete a 40-hour education course.
6. You must pass the state's written bail bonds exam.
If you meet requirements 1–4, check with your local county government before you move forward with 5 and 6, as the county may have its own pre-licensing requirements.
Education & Training
The state of Georgia does not require a college degree for bondsman candidates, but some experience in finance, law, economics, or business can be helpful. Again, you'll also want to check with your county, as some require you to pass a course in criminal justice before they approve you to take the state exam.
A 40-hour state pre-licensure prep course is mandatory and is called the "Georgia Property and Casualty Pre-Licensing Course." The course is offered at a range of educational institutions, both on-site and online. Remember that as a bondsman, you'll be acting as a surety agent (assessing and assuming risk), so a basic understanding of insurance and contract law is essential.
The Georgia Property & Casualty Insurance Exam
To become a licensed bondsman in Georgia you must pass the Georgia Property & Casualty Insurance Exam. The exam lasts 2 hours and requires payment of a $42 registration fee. To pass, you must answer at least 70% of the questions correctly. If you fail your first time out, don't panic. You can re-take the exam until you pass (but you must pay the $42 fee each time).
State Licensure
Once you've taken your course and passed the exam, it's time to apply for your bondsman's license. The first step is to complete and sign the state's 2-page "Casualty Insurance Agent License Application," which is available for download online. There is a $115 fee for licensure, payable to the Georgia Insurance Department, which you must provide with your application. You must also provide notarized proof of U.S. citizenship (Citizen Affidavit Form) and a copy of your personal identification (driver's license). Finally, you'll need to provide certification that you completed the 40-hour pre-licensing exam and proof of a passing score on the exam itself.
Work at a Bail Bonds Agency
Nearly every career has some period of apprenticeship. By securing a position with an established bail bonds agency, you'll learn the day-to-day operation of the business from people who've experienced it firsthand. Not only will you learn valuable industry tips you won't find in books, but you'll also develop essential connections with the insurance agencies that underwrite the bonds.
---
Bond, James Bond, Inc. can handle any size or type of Georgia bail bonds in Barrow County, Bartow County, Cherokee County, Clarke County, Cobb County, Floyd County, Gordon County, Gwinnett County, Paulding County and Polk County. We are always open - 24 hours a day, 7 days a week, including holidays. We have 11 locations that are conveniently located to serve you better.