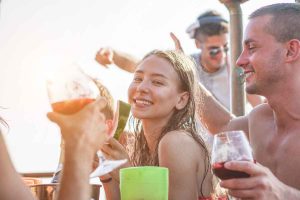 Like drunk driving, operating a boat while intoxicated can result in significant property loss, injury, and even death. So most states have strict laws to discourage impaired persons from operating watercraft. Let's look at how these laws work to protect Georgia's waterways—and what they mean for defendants.
Boating Under the Influence (BUI) Basics
In Georgia, the water safety laws are particularly stringent—applying not only to motored or sail-powered craft, but also to water skis, jet skis, surfboards, and even aquaplanes. Under Georgia law, all are considered "vessels" that one may not operate while impaired or intoxicated.
If you are stopped under suspicion of boating while intoxicated, you may be asked to take a sobriety test or to breathe into a Breathalyzer. As with DUI, a blood alcohol content over 0.08% is considered evidence of impairment and may subject you to arrest or citation. Georgia observes a "zero tolerance" policy for boaters under age 21, limiting their BAC to 0.02% or less.
Officers needn't suspect you of BUI in order to stop your vessel for a safety check. For example, an officer may want to see that you have sufficient life vests aboard for all passengers, or that your watercraft's safety lights are in working order. If, however, an officer believes you are intoxicated, he or she may request a sobriety test. Refusal to take the test, while not an admission of guilt, may result in the temporary suspension of your boating license.
BUI Penalties
As with DUI offenses, BUI penalties are intended to curb reckless behavior, and so it's not surprising that penalties to violators increase with each additional offense. Here are the penalties in Georgia:
First Offense
A first-offense BUI is a misdemeanor, typically punishable by a fine of between $300 and $1000, 24 hours to 12 months imprisonment, and 40 or more hours in community service.
Second Offense
A second BUI conviction within a 10-year span is a misdemeanor, typically carrying fines of $600 to $1000, 72 hours to 12 months imprisonment, and a minimum of 30 days community service.
Third Offense
Considered a "high and aggravated" misdemeanor, a third BUI conviction within a 10-year span carries $1000 to $5000 in fines, 15 days to 12 months imprisonment, and a minimum of 30 days community service.
Fourth Offense
In most cases, a fourth BUI conviction within a decade remains a "high and aggravated" misdemeanor. If, however, the prior three offenses all occurred on or after May 15, 2013, the fourth offense is deemed a felony. Fourth-offense BUIs carry between $1000 to $5000 in fines, a prison term of 90 days to 5 years, and a minimum of 60 days community service.
In Georgia, all those convicted of BUI—including first-timers—must take and complete a "DUI Alcohol or Drug Use Risk Reduction Program" as well as a clinical evaluation for alcoholism and drug addiction.
Of course, the safest and easiest way to avoid any of these offenses and penalties is to remain sober while on the State's waterways. But if you or a loved one is facing jail time for a BUI charge, an experienced bond agent can help. At Bond James Bond, we help defendants secure their release so they may meet vital work and family obligations while awaiting trial. Contact us today, and discover how a Bond James Bond agent can be your best ally.
---
Bond, James Bond, Inc. can handle any size or type of Georgia bail bonds in Barrow County, Bartow County, Cherokee County, Clarke County, Cobb County, Floyd County, Gordon County, Gwinnett County, Paulding County and Polk County. We are always open - 24 hours a day, 7 days a week, including holidays. We have 11 locations that are conveniently located to serve you better.