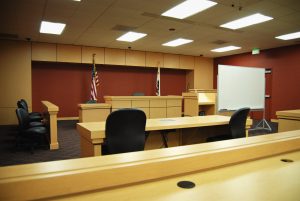 As in much of the nation, the bail system in Cobb County, Georgia is set up to encourage defendants to make each and every appointed court date. Skipping bail (also called "failure to appear" or "FTA") is a serious offense that can have an array of unpleasant consequences.
Much of what happens after you fail to make an appointed court date in Cobb County is determined by state law. According to Georgia state law,
"A person convicted of the offense of felony-bail jumping shall be punished by imprisonment for not less than one nor more than five years or by a fine of not more than $5,000.00, or both."
and
"A person convicted of the offense of misdemeanor-bail jumping shall be guilty of a misdemeanor."
Out-of-state bail jumping (leaving Georgia to avoid a court date) is particularly serious, and can result in imprisonment for a term of 1 to 5 years, a fine of $1000 to $5000, or both.
Here are a few things that can happen if you skip bail in Cobb County Georgia.
A judge will issue a bench warrant for your arrest.

The Cobb County website (cobbcounty.org) is clear on this, stating, "A warrant will be obtained for anyone who misses a court date. If you have completed all past due conditions of your probation, you can contact your Probation Officer to see if your warrant is eligible for a dismissal. If you have not completed all past due conditions, then you will need to turn yourself in."

The court will inform the Georgia Department of Drivers Services, and your driver's license may be suspended.

Once your license is suspended, if you are thereafter pulled over for any reason, the officer making the stop will check the system for outstanding warrants and you will be arrested.

You will void any agreement you have with your bail bondsman.

A bail bond is a promise to appear. If you miss a court date, you will be considered to have broken that promise and your bail may be revoked. This means you will lose any cash or collateral that you or a family member may have put up to secure your release.

You may incur additional "contempt of court" fees.

If you fail to appear for an appointed hearing in Cobb County, you may be ruled by a judge to be in contempt of court, and additional fees may be imposed.
Missing a court date can be accidental. You may have been mistaken about the date or may have believed that the matter had already been resolved. If you receive notice that you missed a court date, you have several options. One is to contact your attorney immediately. If your failure to appear is in fact the result of an honest mistake or a clerical error on the court's part, your attorney may be able to resolve the matter without re-arrest. It's important that you inform your attorney of any such notice, as well as the nature of the offense with which you are charged.
Another option is that you turn yourself in at the Cobb County Adult Detention Center in Marietta. Again, your attorney can help you schedule a time to surrender yourself. If you know in advance that you won't be able to make an appointed court date, notify your attorney as soon as possible, so that other arrangements may be made without risking a bench warrant, loss of bail collateral, or re-arrest.
Of course, the best way to avoid any of these problems is to make all your appointed court appearances. Keep the dates written down or in your phone and confirm with the court—either directly or via your attorney—that you have the correct dates. We hope these tips will make the process as trouble-free as possible.
Need A Bail Bondsman
Should you ever find you or a family member in need of a bail bondsman, please call Bond James Bond, Inc. We have 11 locations that are open 24 hours a day, 7 days a week to serve you quickly.
 ________________________________________________________________
Bond, James Bond, Inc. can handle any size or type of Georgia bail bonds in Barrow County, Bartow County, Cherokee County, Clarke County, Cobb County, Floyd County, Gordon County, Gwinnett County, Paulding County and Polk County. We are always open - 24 hours a day, 7 days a week including holidays. We have 11 locations which are conveniently located to serve you better. Visit us at www.bondjamesbondinc.com, or call Bond, James Bond, Inc. at (770) 382-9111.