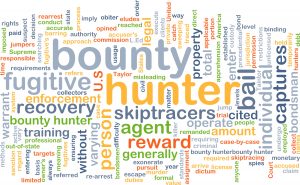 In the U.S. bail system, bail is essentially a promise. The defendant agrees to make all scheduled court appearances and in return is allowed to remain free pending the outcome of his or her case. A magistrate or a judge sets the bail amount, and that bail is paid in either cash or collateral (property) to help assure that the defendant makes all court appearances. Willfully breaking this promise to the court is commonly called "bail skipping"—a practice that is not taken lightly by the state of Georgia.
To better understand the rights of the bail bondsman in such cases, let's take a look at what might happen if you skip bail in Gwinnett County.
Under Georgia law, a bail bondsman is referred to as a "bail recovery agent." That means that the bondsman's duties include "recovering" those who skip bail to prevent forfeiture of the bond. Remember that the bondsman is highly motivated because he has put up as much as 90% of the bond amount to secure the defendant's appearance.

A bondsman has broad resources in recovering a skip. He can, for example, employ a "skip tracer" to help locate a defendant who has willfully missed a court date. Skip tracers are trained professionals tasked with gathering information on the whereabouts of a skip. They can use a range of resources, including phone number databases, court records, credit card records, job applications, utility bills, and public tax records to trace your whereabouts.

If the bail amount is substantial, as in the case of some felonies, a bondsman can employ a bounty hunter to recover a skip. A bounty hunter acts essentially as an agent of the bondsman and receives a "bounty" (a set cash reward) on skips he or she arrests and returns. It is unusual for bounty hunters to be employed in recovering skips whose bail amounts are low; however, bounty hunters have broad arrest powers.

Yes, a bondsman or bounty hunter can arrest you. According to the Code of Georgia (Title 17, Chapter 6, Article 2), a Bail Agent is defined as "a person who apprehends a principal on bail bond or who captures a fugitive who has escaped bail." According to a 1970 opinion by the Georgia Attorney General (U70-83), a bail bondsman may make an arrest on an appearance warrant but not on a bench warrant. This gives the bondsman full arrest powers over a bail skip.

Georgia law allows bondsmen or their agents (bounty hunters) broad powers in tracking and recovering a skip—including the power to cross county and state boundaries in pursuit of a skip. They may use "reasonable force," may arrest you on the Sabbath, and may even enter your home by force pursuant for the purpose of making an arrest (see Taylor, 83 U. S. at 370).
The lesson here is simple: skipping bail is not the answer to your problems—it will only make them worse. If unforeseen circumstances prevent you from being able to make a court appearance, notify your bondsman as soon as possible. Remember, your bondsman can be your advocate or your adversary—the choice is yours.
Should you ever find you or a family member in need of a bail bondsman, please call Bond James Bond, Inc. We have 11 locations that are open 24 hours a day, 7 days a week to serve you quickly.
 ________________________________________________________________
Bond, James Bond, Inc. can handle any size or type of Georgia bail bonds in Barrow County, Bartow County, Cherokee County, Clarke County, Cobb County, Floyd County, Gordon County, Gwinnett County, Paulding County and Polk County. We are always open - 24 hours a day, 7 days a week including holidays. We have 11 locations which are conveniently located to serve you better. Visit us at www.bondjamesbondinc.com, or call Bond, James Bond, Inc. at (770) 382-9111.