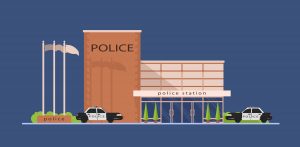 Learning that you have an outstanding arrest warrant can be upsetting. Maybe you missed a court date because you didn't receive proper notification or because the date was changed at the last minute. Whatever the cause, you know you have to deal with the warrant, but you aren't sure of the next right thing to do. Don't panic. There are some things you can do to make the process easier, without further damaging your case.
Talk with an Attorney
Consulting with a lawyer before surrendering yourself to police is always a smart idea. Waiting until you're in custody can result in delays before you're allowed to speak with an attorney. Also, a lawyer can give you some important information, such as the exact charges against you, the maximum penalty for the offense in your state, and whether the warrant affects any other pending cases that concern you. An attorney can also inform you of the bail requirements for your offense and can advocate for you in getting your bail amount reduced.
Timing is Everything
Believe it or not, the day of the week that you surrender yourself can make a difference in how efficiently you're processed. Monday, for example, is traditionally a time when police catch up on processing the prior weekend's arrests, which can delay your paperwork. And if you surrender yourself on Friday, you risk not seeing a judge until Monday, which assures you of a weekend spent in jail. So if you have the choice, try and turn yourself on a Tuesday, Wednesday, or Thursday. With luck you'll get before a judge quickly and may be able to secure bail without missing more than a day's work.
Clothing and Documentation
Dress comfortably but presentably. Since you're turning yourself in, you can choose what you wear, and dressing neatly shows you respect the court's authority. Avoid wearing clothing items that might be taken from you for security reasons, such as belts, drawstrings, or shoelaces. As a general rule, bring just what you need, such as current identification and any other required paperwork requested by the court. You may be permitted essential medications and reading glasses, if you wear them.
No Contraband
Some items—such as liquor, recreational drugs, or tobacco products—should never accompany you to a self-surrender. If you have to wonder if something may be contraband, it probably is. Also, don't bring your phone—it will be confiscated. If you need to have important phone numbers handy, go old school and write them down.
Know Your Rights
Under the Constitution, you are permitted to have your attorney present during questioning. The police will ask questions in an attempt to build a stronger case against you. Your attorney can best advise you of how to respond. If your lawyer is not present, you may opt to "take the Fifth." In light of the recent Supreme Court decision regarding a defendant's Miranda rights, you must state aloud during questioning that you are exercising your Constitutional right to remain silent.
Find a Bondsman
If your offense is bailable, you'll need a reliable bail bondsman in your area. It is important to work with a reputable and experienced bail bond company such Bond James Bond, Inc. Frequently, a bail bond company can get you, your friend or family member released in a matter of hours.
We hope these tips help you make the road ahead a bit easier.
---
Bond, James Bond, Inc. can handle any size or type of Georgia bail bonds in Barrow County, Bartow County, Cherokee County, Clarke County, Cobb County, Floyd County, Gordon County, Gwinnett County, Paulding County and Polk County. We are always open - 24 hours a day, 7 days a week, including holidays. We have 11 locations that are conveniently located to serve you better.