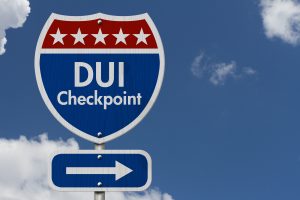 In 1990 the U.S. Supreme Court ruled that police sobriety checkpoints on public roadways do not violate a citizen's Constitutional protection against illegal search and seizure. This ruling has had nationwide repercussions regarding the way police departments can (and cannot) attempt to stop intoxicated drivers who have not committed a traffic violation or been involved in an accident. Here we'll take a look at some key points you should remember when encountering a DUI checkpoint in Georgia.
Rules for Police
While it may seem as if the police hold all the power in a DUI checkpoint situation, there are some rules they must follow. If law enforcement does not follow these rules, any arrest or charges subsequent to a DUI checkpoint stop may not hold up in court.
Any DUI checkpoint must be established as part of an overall plan to curb drunk driving.

DUI checkpoints cannot be placed simply anywhere. They must be on apublic roadway and at a location that has shown a higher than average statistical propensity for accidents (a "trouble spot").

Police must warn motorists of a DUI checkpoint ahead.

Law enforcement must maintain a clearly identifiable police presence (e.g., marked cruisers with lights flashing) at any DUI checkpoint.

Police may make a brief visual inspection of the vehicle (e.g., through the car window) without entering the vehicle. Contraband items in plain sight (such as an open liquor or beer bottle) may be used as grounds for further investigation and/or arrest.
Rules for Motorists
While police must comply with the above rules in order for a DUI checkpoint to be considered lawful, the greatest burden, not surprisingly, falls upon motorists.
If you see a DUI checkpoint ahead, don't attempt to U-turn to avoid it. The police can and will pursue you.

Comply with the directives of the officer(s) at the checkpoint.

Be prepared to produce documentation such as your driver's license, registration, and proof of insurance. Failure to have valid and current versions of these documents can result in fines for regulatory violations even if you are sober.

If pulled aside for additional sobriety testing, comply. Police are permitted to check you for the odor of alcohol, slurred speech, or impaired motor skills.

If you have a disability, make the officers aware of it and have some documentation of your disability handy.

Refusal to comply with roadside sobriety tests (including a breath-a-lyzer) can result in your arrest.
If you are arrested at a DUI checkpoint and charged with driving while intoxicated, you will be brought before a judge or magistrate, who will set bail for the offense. If you cannot make bail on your own, you can call a bail bond agency such as Bond James Bond, Inc. to help. Whether this is your first DUI arrest or one of several, a bail bondsman (also called a "surety agent") can help secure your freedom pending your trial date and can limit your out-of-pocket expenses to a fraction of the full bail amount.
Ultimately the best way to avoid a DUI arrest is to be sober any time you are behind the wheel and to comply with all officer directives when encountering a DUI checkpoint. We hope this information helps you maintain a clean driving record.
---
Bond, James Bond, Inc. can handle any size or type of Georgia bail bonds in Barrow County, Bartow County, Cherokee County, Clarke County, Cobb County, Floyd County, Gordon County, Gwinnett County, Paulding County and Polk County. We are always open - 24 hours a day, 7 days a week, including holidays. We have 11 locations that are conveniently located to serve you better.