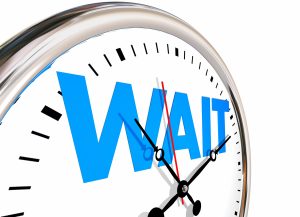 Waiting for the release of a loved one from jail can be an especially stressful and frustrating time—and any delay in their release can make this time even harder. While most defendants are released within 2 to 6 hours after bond is posted, there are factors that can drag the process out, sometimes as long as 24 hours after the bond is paid.
Let's look at some reasons the release of your loved one might be delayed:
Processing
This is the most common reason for variations in release times. Just as there's a lot of paperwork to be completed when an arrestee is booked, there's a lot of paperwork to be completed before their release. Every jail has its own procedures, and while most strive for efficiency, delays are not uncommon. Any errors in or required documentation missing from an arrestee's papers can further delay an arrestee's release. Unfortunately, this is a feature of our bureaucracy, and even in the age of computers, every "i" must be dotted and every "t" crossed, so procedural delays are commonplace.
Weekends
There's a saying, "never get arrested on a Friday night." If your loved one is arrested at the start of the weekend, they might not see an arraignment judge or magistrate until Monday. So even if you have the money to secure their bail, you won't be able to start the bail bonds process until the bond hearing. The chances of experiencing this sort of delay are greater in rural counties.
Short-Staffed Jails
Any shortage in jail staff can add hours to the release process. A lot depends on chance. If the on-duty administrative personnel are swamped with work, release can take longer.
High-Volume Arrests
Say your loved one is arrested along with 100 other people during a party that got out of hand. Or maybe they were caught up in a "sweep" with dozens of other defendants. These high-volume arrests can create bottlenecks in a jail's procedures. So bookings will take longer, bond hearings may be delayed, and release times will almost certainly be extended when a jail is forced to process a large number of arrestees in a short period. A lot depends on the jail's capacity to handle large-volume arrests. The smaller the jail, the longer the delays in processing tend to be.
The Arrestee Was Moved to Another Facility
Sometimes an arrestee will be moved to another facility before arraignment. Most county jails will confirm that they have a person, and many have inmate locators on their websites. If the person has been transferred to another facility, they can let you know that too.
It's Not the Bondsman's Fault
While these delays are surely frustrating, there's little your bondsman can do to speed the process. Once bail is secured (either in full by the defendant or through a bond agent), it's up to the jail and its staff to process and release the defendant. The bondsman is your ally, but they don't control the jails. Working closely with a bondsman can, however, help reduce the cost burden of bail and can help assure that your loved one makes all subsequent court appearances.
If your offense is bailable, you will want to reach out to a bail bondsman immediately. It is important to work with a bail bond company such Bond James Bond, Inc. With over 11 locations, our team has the experience to get you, your friend or family member released in a matter of hours.
________________________________________________________________
Bond, James Bond, Inc. can handle any size or type of Georgia bail bonds in Barrow County, Bartow County, Cherokee County, Clarke County, Cobb County, Floyd County, Gordon County, Gwinnett County, Paulding County and Polk County. We are always open - 24 hours a day, 7 days a week including holidays. We have 11 locations which are conveniently located to serve you better. Visit us at www.bondjamesbondinc.com, or call Bond, James Bond, Inc. at (770) 382-9111.