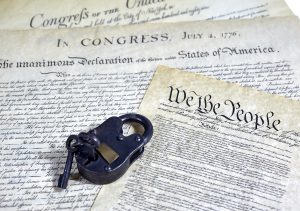 The U.S. Constitution was written with many built-in protections for American citizens. The first ten amendments to the Constitution, known as the Bill of Rights, define these protections in detail.  The 8th Amendment states that,
"Excessive bail shall not be required, nor excessive fines imposed, nor cruel and unusual punishments inflicted."
Drawn almost verbatim from English law, the 8th Amendment was designed to protect citizens from the potential abuses of governments and judges, and to assure that arrestees not be subjected to punitive or excessive bail amounts.  While history has shown courts to be largely compliant with the terms of the 8th Amendment, there have been some notable exceptions. Here, we will examine five such cases.
Weems vs. United States (1910)
An important test of the 8th Amendment's prohibition against cruel and unusual punishment came in 1910, when an American Coast Guard and Transportation officer, Paul Weems, was charged with crimes committed while he served in the Philippines, then a U.S. protectorate. Philippine courts charged Weems with falsifying official documents with the aim of defrauding the government. Weems was convicted and sentenced to 15 years imprisonment and hard labor, as well as a cash fine of 4000 Philippine pesos. Weems attempted several times to have his sentence decreased, all without success. His attorneys argued the case all the way to the U.S. Supreme Court, asserting that Weems was not present at his Philippine trial and that the sentence constituted cruel and unusual punishment (Weems would have been held, chained by the ankle or wrist, throughout his incarceration). The Supreme Court supported Weems' claim of cruel and unusual punishment and reversed the Philippine court's judgment.
Furman v. Georgia (1972)
Burglar William Henry Furman was sentenced to death for the murder of a woman shot while Furman was attempting to rob her home. Furman argued that the death was accidental and that the harsh sentence was imposed because Furman was African-American. In a 5-4 decision, the U.S. Supreme Court ruled with Furman, commuting his sentence to life. The case caused all death sentences pending at the time to be reduced to life imprisonment and redefined the way U.S. law views the death penalty.
U.S. v. Salerno (1987)
In 1986, Anthony "Fat Tony" Salerno, a high-ranking figure in the New York based Genovese crime family, was arrested and charged in a string of indictments against Mafia bosses and their associates. A judge denied Salerno's bail application, citing the Bail Reform Act of 1984, which permitted the denial of bail if an offender posed an ongoing risk to others or to the community were he to be released. Salerno's attorneys appealed the decision and argued the case all the way to the U.S. Supreme Court, asserting that the State had exaggerated Salerno's importance and risk as a defendant. The justices, however, upheld the ruling of the lower courts, and Salerno was denied bail. He was later convicted on racketeering charges and sentenced to 75 years in prison. Salerno died in prison in 1992 at the age of 80.
City of Columbus v. Freeman (2005)
Perhaps the highest bail amount ever set in the U.S. was against the co-operator of an Ohio brothel. Freeman was arrested in 2005 and, along with her codefendants, was charged with operating a house of prostitution in the city of Columbus. Though Freeman was not considered dangerous, the State asked for a high bail amount, stating that they believed Freeman to be a high flight risk. The judge complied and set bail at $1 billion.  
Timbs v. Indiana (2019)
The 8th Amendment's excessive fines clause recently came under scrutiny in the case of accused Indiana drug dealer Tyson Timbs. Timbs was accused of selling $225 in street drugs to undercover officers. He pleaded guilty and was sentenced to 1 year of house arrest, 5 years probation, and a $1200 fine, all of which Timbs accepted. The State, however, went further. Under Indiana's asset forfeiture law, the State argued that Timbs' Land Rover be seized because it was used to transport Timbs to and from his criminal enterprise. Timbs, through The Institute of Justice, argued that seizure of the vehicle made it virtually impossible for him to gain employment and thus constituted an excessive fine. The battle went all the way to the Supreme Court, which ordered his case to be reheard.
At Bond James Bond, we understand how stressful an arrest can be. We help our clients to better understand the bail process and to make all court-mandated appearances. If you or a loved one has been arrested and charged with a crime, contact one of our licensed and experienced bond agents today. You'll be glad you did.
---
Bond, James Bond, Inc. can handle any size or type of Georgia bail bonds in Barrow County, Bartow County, Cherokee County, Clarke County, Cobb County, Floyd County, Gordon County, Gwinnett County, Paulding County and Polk County. We are always open - 24 hours a day, 7 days a week, including holidays. We have 11 locations that are conveniently located to serve you better.