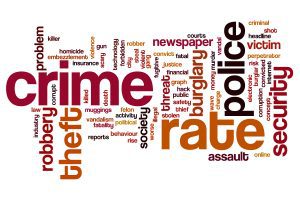 The Georgia Bureau of Investigation compiles annual crime statistics using a method based on the FBI's national reporting system. This database focuses on serious felonies and the rates of arrest and conviction for each. Let's look at the most recent report (Editor's Note: Data for 2018 had not been compiled at the time of this writing).
The 2017 Summary Report of the Uniform Crime Reporting (UCR) Program tracked data for a range of felonies, including murder, non-negligent manslaughter, rape, robbery, aggravated assault, burglary, larceny-theft, motor vehicle theft, and arson (these are the eight crimes which the FBI combines to produce its annual crime index). The data for these offenses are shown below: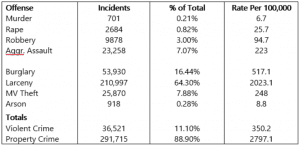 For the 28-county Atlanta metropolitan statistical area, incidents of murder were highest in Fulton (124 murders), DeKalb (98 murders), and Clayton County (44 murders).
Aggravated Assault numbers were greatest in Fulton (4286 aggravated assaults),
DeKalb (2060 aggravated assaults), and Cobb County (1089 aggravated assaults).
For burglary and larceny, rates were highest in Fulton (6235 burglaries and 33,652 larcenies), DeKalb (6000 burglaries and 20,853 larcenies), Gwinnett (3342 burglaries and 13,152 larcenies), and Cobb County (2540 burglaries and 13,619 larcenies).
Robbery rates were highest in Fulton (2354 robberies), DeKalb (1535 robberies), and Gwinnett County (803 robberies). These rates also represent highs for the state of Georgia.
When compared with 2016 data, statewide rates for some violent crimes increased in 2017:
Murder:                  

666 to 701 incidents

Rape:                      

2407 to 2,684 incidents
While for other index crimes, rates saw decreases:
Robbery:                

12,069 to 9,878 incidents

Burglary:                

61,464 to 53,930 incidents

Larceny:                  

214,539 to 210,997 incidents

MV Theft:               

26,361 to 25,870 incidents

Arson:                     

1,085 to 918 incidents
And rates for others remained steady:
Aggr.Assault:         

23,751 to 23,258 incidents
If these numbers seem high, there is a bright side. Crime reduction continues to be a high priority in both the Georgia State House and Governor's Mansion.
The home security company Safewise recently ranked the safest communities in Georgia and found Summerville, Milton, Johns Creek, Senoia, Peachtree City, Alpharetta, Tyrone, Dallas, Flowery Branch, and Grovertown to be the safest communities in the state.
Remember that if you're arrested and charged with a crime, an experienced and licensed bail bondsman is your best ally. At Bond James Bond, we pride ourselves on our professionalism, courtesy, and attention to detail.  Don't miss valuable time away from work and family. Contact us and discover what Bond James Bond can do for you.
---
Bond, James Bond, Inc. can handle any size or type of Georgia bail bonds in Barrow County, Bartow County, Cherokee County, Clarke County, Cobb County, Floyd County, Gordon County, Gwinnett County, Paulding County and Polk County. We are always open - 24 hours a day, 7 days a week, including holidays. We have 11 locations that are conveniently located to serve you better.