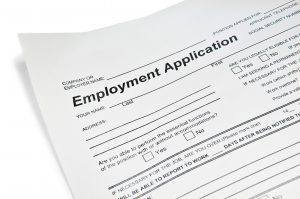 The FBI defines a criminal record as any felony arrest, even if that arrest does not lead to a conviction. By that standard, it is estimated that 73.5 million Americans currently have a criminal record. If that seems like a high number, it is, and it amounts to nearly 30% of the nation's adult population. So if you are a job seeker with a criminal record, you are not alone.
Finding and maintaining steady employment can be challenging if you have a felony arrest or conviction. That's why it is especially important to know two pieces of information:
What can a prospective employer ask or investigate about your record?

What does the law require you to tell your employer about your record?  
What Employers Can Ask
Laws regarding what a prospective employer can legally ask about your past vary from state to state. In Georgia, state law permits a prospective employer to request criminal records on any job applicant from the state's Crime Information Center, but the employer must have the applicant's fingerprints or written consent to do so. (Probation following a first offense is not considered grounds for disqualification for employment.) If an employer does deny employment to an applicant because of a prior arrest or conviction, the employer must divulge to the applicant the information from the record and must explain how it contributed to their decision.
There are also Federal Laws that limit what information a prospective employer can use in making hiring choices based on an applicant's past.
     The employer must obtain your written consent before running a check on you.

     The employer must notify you if they intend to disqualify you based on the report. The employer is also required to give you a copy of the report

     The employer must inform you after they have made a final determination not to extend an offer of employment.
The Equal Employment Opportunity Commission (EEOC) also has issued guidelines on what employers should consider when making hiring decisions. These include the amount of time that has lapsed since the offense, the seriousness of the offense, and the nature of the work itself. While these guidelines are not binding, they do establish a recommended code of conduct for employers.
What You Must Tell Your Employer
While a prior arrest or conviction can damage your chances of obtaining employment, willful failure to disclose a prior criminal record can be used as grounds for dismissal. So your best bet is to be honest about your record but to place it in a context that is less damaging to your application. For example, if you were convicted of a minor offense 20 years earlier but have had no run-ins with the law since that time, you can divulge the experience but emphasize the positive aspects of your life and character since then.
As a general rule:
Be honest about your past

Don't volunteer information that is not in your record

Emphasize the positive parts of your life and work experience (practicing your answer to yourself several times can help you speak clearly and comfortably about the experience)
If you feel a prospective employer has violated either state or federal law in the processing of your application, or has discriminated against you because of your race, gender, or sexual orientation, you may file a grievance with the EEOC.
Should you have a criminal record, we hope these tips improve your chances for finding a rewarding career.
Remember, if you ever find you or a family member in need of a bail bondsman, please call Bond James Bond, Inc. We have 11 locations that are open 24 hours a day, 7 days a week to serve you quickly.
---
Bond, James Bond, Inc. can handle any size or type of Georgia bail bonds in Barrow County, Bartow County, Cherokee County, Clarke County, Cobb County, Floyd County, Gordon County, Gwinnett County, Paulding County and Polk County. We are always open - 24 hours a day, 7 days a week, including holidays. We have 11 locations that are conveniently located to serve you better.