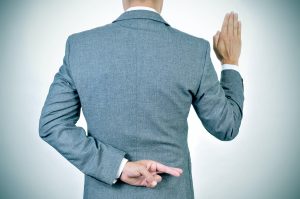 In the U.S. criminal justice system, judges and juries make their determinations of guilt or innocence based upon the evidence presented during a trial. Some of this evidence may take the form of documents, electronic records, photographs, or even objects, while other evidence is revealed through the spoken or written testimony of witnesses.
It is assumed that all witnesses testifying in court will present a truthful and complete account of events relevant to the case, and before testifying each witness is required to take an oath—a promise that they will tell "the truth, the whole truth, and nothing but the truth." It's a phrase you've probably heard many times on TV, even if you've never been inside a courtroom.
But what happens if a witness intentionally lies while under oath? In the U.S. criminal justice system, the crime of giving false or intentionally misleading testimony is called perjury and can carry some serious penalties.
What Constitutes Perjury?
There are several common scenarios that qualify as perjury. These include:
Knowingly providing a false account of events during testimony.

Intentionally omitting critical from testimony to create a false narrative.

Falsifying, altering, or omitting paper or digital documents relevant to the case.

Knowingly understating or underreporting winnings, earnings, or profits.
In essence, if it can be determined by external evidence that the testimony you provide under oath is in any way knowingly false, you may be charged with perjury. Say, for example, that you provide a false alibi for a defendant accused of robbery, claiming he was with you when the crime occurred elsewhere. Yet, CCTV evidence puts the defendant at the crime scene. This contradiction would call your testimony into question, and if it can be determined that you knowingly lied, you will likely be charged with perjury.
Perjury does, however, have its limits. For example, statements made while not under oath are not subject to perjury. Refusal to speak or to incriminate oneself in court is also not bound by perjury laws.
Penalties for Perjury
While perjury is often difficult to prove, it comes with some stiff penalties to ensure that witnesses provide truthful testimony. In the Federal court system, for example, one who is found guilty of perjury…
"shall, except as otherwise expressly provided by law, be fined under this title or imprisoned not more than five years, or both." (18 U.S.C. § 1621)
State and local courts have similar laws in place to discourage lying under oath, but judges often have broad discretion in applying penalties. Fines or probation, rather than jail time, may await witnesses who have been found lying under oath. In the State of Georgia, for example, if you are found guilty of perjury, you could be sentenced to 1 to 10 years imprisonment, a fine up to $10,000, or both. This gives judges ample opportunity to tailor the sentence to the severity of the offense.
Other Effects of Perjury
In some special cases, perjury can have effects outside the criminal justice arena. For example, if you are employed by an agency that places a high premium on truthfulness (such as a police department, medical examiner, or law office), knowingly providing false statements under oath can cost you your job, even if no criminal penalty is assessed.
If you are asked to testify in court, it is strongly recommended that you provide honest, accurate, and complete testimony to the best of your ability.
If you or a loved one has been arrested and charged with a crime, an experienced bail bond agent can be your best ally. Time spent in jail waiting until your trial date can cost you to miss essential work and family obligations. A licensed bondsman can help secure your release until trial for only a fraction of the total bail amount. Our representatives are eager to help you. Contact Bond James Bond today!
---
Bond, James Bond, Inc. can handle any size or type of Georgia bail bonds in Barrow County, Bartow County, Cherokee County, Clarke County, Cobb County, Floyd County, Gordon County, Gwinnett County, Paulding County and Polk County. We are always open - 24 hours a day, 7 days a week, including holidays. We have 11 locations that are conveniently located to serve you better.