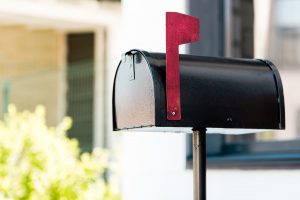 For someone who is incarcerated, a letter from a friend or loved one on the outside can be a sustaining lifeline, providing a sense of connection and hope. But sending mail to inmates can be complex, as all communication between inmates and the outside world is controlled at least to some degree by prison staff. Here are some tips to help ensure that your letters and care packages reach their intended recipient.
What Items Are Required?
Personal correspondence plays a critical role in connecting inmates and those on the outside. But to ensure that your letter gets through, it must contain certain information. For example, all mail addressed to an inmate must include on the envelope: the sender's name and return address, the name and address of the prison facility, the inmate's name, and the inmate's prison ID number. Because prison rules vary by state and facility, check with the staff at the prison where your loved one is being held about any specific requirements before sending correspondence. Also, remember that replying to letters costs money, even in prison. If you expect a reply, you may want to include postage stamps or a self-addressed envelope so your loved one can write back to you easily.
What Items Are Prohibited?
When communicating with an inmate by mail, it is important to understand that all incoming mail is inspected by prison staff, and there are many items that may be flagged as contraband or prohibited for other reasons. In most prisons, the Deputy Warden of Administration is tasked with the job of screening inbound inmate mail (and indeed any mail that comes through the prison's mailroom). And while certain rules are maintained throughout the system, Deputy Wardens do have some discretion as to what they will and will not permit in mail. Below are some items that will routinely get a letter or package "flagged" for refusal. Prohibited items include: weapons, drugs (illicit or prescription), alcohol, pornography, cellphones, memory cards, data sticks, or other telecommunications media. Letters and packages may also be flagged if they contain, staples, paperclips, fragrances, colored paper, glue, glitter, stickers, lipstick, or any other item that prison regulations deem contraband.
Does Prison Staff Inspect Prisoner Mail?
Yes, you can pretty much be assured that prison staff will at least visually inspect any mail you end to a prisoner. So to protect yourself and your loved one on the inside, be aware that your words may be read by a third party (prison staff). Refrain from discussing in correspondence anything that could further incriminate an inmate or pose a threat to staff.
Sending Photos
Many prisons do allow inmates to receive photographs and to keep them on their persons or displayed in their cells. If you send a photo to an inmate, it should be no larger than 4x6" and should have the inmate's name and prison ID number written on the back. All incoming photos are screened, and no violent or pornographic material will be permitted. Also, some facilities may limit the number of photos an inmate can receive, so check with the facility before you mail.
Sending Care Packages
Many prison facilities allow inmates to receive care packages from the outside. These may include books or magazines (pending staff approval), religious or faith-based materials, photos, and, in some cases, certain types of clothing such as underwear or shoes. The ability to send food items depends on the security level and specific rules of the facility. Avoid sending perishables or anything that could rot or deteriorate in transit. Some prisons allow inmates to receive dry goods and coffee, while others prefer that you instead place credit on the inmate's commissary account. Check with the facility to determine the best way to add money to an inmate's commissary. Some allow you to send the inmate cash or money order directly, while others prefer you use services like Smart Deposit, which allow you to simply put money on an inmate's books by phone.  
If you or a loved one has been arrested and charged with a crime, a bail bond agent can be your best ally. At Bond James Bond, we work with our clients to secure pretrial release and to ensure that defendants make all court-mandated appearances. Contact us today, and learn how an experienced and licensed bail bond agent can help.
---
Bond, James Bond, Inc. can handle any size or type of Georgia bail bonds in Barrow County, Bartow County, Cherokee County, Clarke County, Cobb County, Floyd County, Gordon County, Gwinnett County, Paulding County and Polk County. We are always open - 24 hours a day, 7 days a week, including holidays. We have 11 locations that are conveniently located to serve you better.