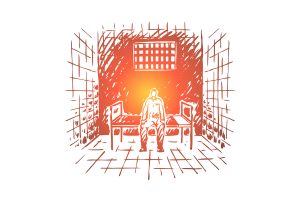 For over a century, U.S. jails have followed a classification system that separates males from females, adults from juveniles, and sentenced from pre-sentenced arrestees. Overcrowding and other factors (such as the rise in gang-related crime) have forced many jail systems to add new layers of classification based on an arrestee's history. While these distinctions vary from jurisdiction to jurisdiction, often depending on prevailing approaches jail management, the process does have some common characteristics. Let's take a closer look.
First Encounter: Intake and Booking
Intake and booking mark the first point of contact and evaluation between jail staff and arrestees. Most new arrestees are placed in one or several holding cells, depending on the size of the facility. All arrestees are searched and relieved of personal property, photographed, and fingerprinted. The intake staff uses this period to gain important information on a detainee's history—including gang affiliation (if applicable), history of violent offenses, and mental health history—to help them determine where the detainee should be placed.
Initial Custody Assessment
This phase of classification typically begins after an arrestee is held for arraignment. Those who are able to make bail quickly (usually within 4­–8 hours of booking) do not typically go through this phase of classification. The remainder, however, must have a formal custody assessment. Staff members use available records, as well as information obtained from the arrest report and initial screening, to perform their evaluation. Larger facilities may have a dedicated classification unit for this purpose.
In addition to the basic classification criteria that separate males from females, adults from juveniles, and pre- from post-trial inmates, this phase of classification also looks at other characteristics.
If an inmate's bond amount is set by statute, the jail may classify inmates of similar bond status together (separating those accused of low-bond offenses from those with high-bond offenses).

Staff may also separate inmates accused of violent offenses from those facing charges for non-violent crimes.

Arrestees with a suspected gang affiliation will often be segregated to avoid members of rival gangs being housed together.

Arrestees with a history of psychiatric problems, drug dependency, or suicidal behavior may also be separated from the general jail population.
To make these classification decisions, staff members rely largely on personal interviews with individual inmates. This information is used to develop a housing assignment for each inmate. Within the larger categories of male/female, adult/juvenile, and pretrial/post-sentencing segregation, some facilities also add other layers of classification, often grouping inmates of similar age or cultural background together.
The classification process itself takes about 2 to 6 hours per inmate. Large facilities are able to process inmates 24 hours a day, while smaller facilities restrict classification to a period of 8 to 12 hours each day when classification is performed.
Reclassification
Once an inmate is classified, their status is still not etched in stone. New revelations about an inmate's prior history, the inmate's behavior while in custody, and a change in status from "pretrial" to "sentenced" can all change an inmate's classification and housing assignment. Also, if additional charges are brought against an inmate, the inmate may be reclassified (depending on the nature of the new charges). Reclassification can work to improve an inmate's status too. Those with an exemplary record while in jail may gain an improved classification, even trustee status. A classification review may be requested by jail staff, administration, or by an inmate. Some jails also mandate reclassification at set intervals, so an inmate may be reclassified several times during a single jail term.
At Bond James Bond we understand the importance of pretrial release to help defendants meet family and work obligations while awaiting trial. That's why we work with each client to help secure their release and to ensure that they meet all court-mandated appearances. Contact Bond James Bond today, and discover how our licensed and experienced bond agents can help. 
---
Bond, James Bond, Inc. can handle any size or type of Georgia bail bonds in Barrow County, Bartow County, Cherokee County, Clarke County, Cobb County, Floyd County, Gordon County, Gwinnett County, Paulding County and Polk County. We are always open - 24 hours a day, 7 days a week, including holidays. We have 11 locations that are conveniently located to serve you better.