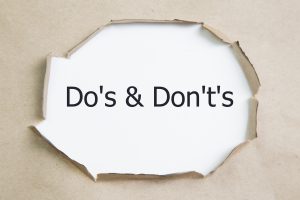 If you've been arrested and charged with a crime, it can be a very stressful time, both for you and those you love. If you are able to secure your release on bail pending your trial, you should be aware that this time is precious and should be used wisely. As a licensed and experienced bail bond agent,  we are pleased to offer a few tips on what to do (and what NOT to do) while you're free on bail.
DO: Spend Time with Family
If you've been recently released on bail, you'll probably want to spend time with those closest to you. Family is often your most important and available source of emotional strength during hard times, and a supportive family can make such stressful times easier to manage. You may choose to talk with your family members about your case and prepare them emotionally for the possibility that you may be incarcerated. You may also want to set up some financial protection for your family, in the event that you are sentenced to prison time.
DO: Meet Your Work Obligations
If you are released on bail and are employed, it's important to continue to meet your work obligations—both to provide some measure of financial security for your family and to show the court that you are gainfully employed and a contributing member of your community. Even if you are convicted, any evidence that you are making a positive effort can work in your favor at sentencing.  
DO: Inform Your Bond Agent and Attorney if You Travel
If you must leave the jurisdiction for any reason—provided you are not prohibited from doing so by the stipulations of your bail agreement set by the court—you should inform both your attorney and your bond agent of your plans. Also, provide essential contact information so your lawyer and bondsman can reach you in the even there is any change in your case (such as a court date being moved up).
DO: Assist in Preparing Your Own Defense
An informed defense attorney is your best advocate. If you are fortunate enough to be released pending trial, take this opportunity to work with your attorney. If you recall something that can help your case—such as a witness who may be able to corroborate your testimony or a detail you may have missed in a prior interview—share this information with your lawyer. The more information your attorney has about your case, the more options they will have in planning your defense.
DON'T: Expose Yourself to Criminal Influences
While released on bail, it's important to avoid any influences that could lead to additional criminal charges, or the revocation of your bail. Generally, avoid the people, places, and things that got you in trouble with the law in the first place, and try to avoid contact with any known offenders. 
DON'T: Engage in Criminal Activity
Bail is a privilege, not a right, and it can be revoked if you violate the terms of your release. This may seem obvious, but do NOT commit any crimes while free on bail. This can result in immediate revocation of your bail privileges and can result in additional charges against you.
DON'T: Miss Your Court Dates
Remember that any bail arrangement constitutes a promise that you will meet all court-mandated appearances as scheduled. Missing a court date  (especially if you fail to inform the court) can result in your bail being revoked and in your re-arrest. By making all scheduled court appearances, you are also demonstrating character, and courts tend to look more favorably on defendants who follow the rules. If you know in advance that you must miss a scheduled court date, inform your attorney's office immediately so that they may make the motions necessary to reschedule your court appearance without the loss of your freedom.
We hope these tips prove helpful. At Bond James Bond, we work with clients daily to ensure that they are able to meet their work and family obligations while awaiting their day in court. If you or a family member has been arrested and charged with a crime, remember that an experienced and professional bail bond agent can be your best ally. So why stress? Call Bond James Bond today and discover what we can do for you.
Bond, James Bond, Inc. can handle any size or type of Georgia bail bonds in Barrow County, Bartow County, Cherokee County, Clarke County, Cobb County, Floyd County, Gordon County, Gwinnett County, Paulding County and Polk County. We are always open - 24 hours a day, 7 days a week including holidays. We have 11 locations which are conveniently located to serve you better. Visit us at www.bondjamesbondinc.com, or call Bond, James Bond, Inc. at (770) 382-9111.