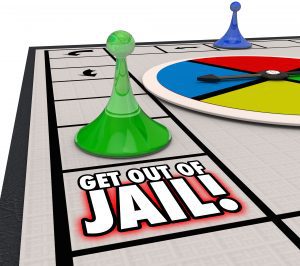 If you're arrested and awaiting release on bail, every minute can seem like an eternity. At such times, it's easy to feel that your situation is entirely out of your control. Fortunately, that's not entirely true. There are a few things you can do to help expedite the bail process and get you released as soon as possible:
1. Contact a licensed bail bondsman in your area.
When you're arrested, a bail bondsman is your best friend. While this may be your first encounter with the criminal justice system, a bail bondsman is already familiar with the process and has the skills and resources to help secure your release.
2. Gather any information the bond agency will need.
As with any bureaucratic process, the devil is in the details. So if possible, you or a family member should be able to provide the bail bonds agent with any information they need to move the process forward. Typically this info includes:
The full legal name, birth date, and social security number of the arrestee

A complete list of charges against the arrestee

The location where the arrestee is being held

The arrestee's processing or ID number

The bail amount

Whether the arrestee is being held on a local, state, or federal warrant

Any relevant details on the circumstances of the arrest

Any information on the arrestee's past record
3. Confirm the bail amount.
Bail amounts for common offenses may have a standard bail sum, which can be found on a bail schedule, while in other cases the bail amount is set by a judge or magistrate at your first court appearance. The sooner the bondsman has this information, the faster bond can be posted and your release secured.
4. Know your rights.
If you feel that you have been treated unfairly or that the bail amount set is too high, request to speak with your attorney. They will be able to assess the situation and determine whether further action is needed. Your attorney can, for example, petition to have bail reduced if it seems outside the guidelines for the offense. You should have access to your attorney at any time during this process.
5. Stay calm and be patient.
Bailout and release times vary from facility to facility and can vary from day to day within a single jail. Overcrowding, availability of judges or magistrates, and the volume of arrests (especially on weekends) can all prolong release times. Try to keep your cool and mind the rules of the facility. Incurring added violations while awaiting bail will only prolong the process and further delay your release.
At Bond, James Bond, Inc., we are committed to providing quality, professional bail bond services at all our locations in Georgia. If you or a loved one has been arrested, we're here to help.  
________________________________________________________________
Bond, James Bond, Inc. can handle any size or type of Georgia bail bonds in Barrow County, Bartow County, Cherokee County, Clarke County, Cobb County, Floyd County, Gordon County, Gwinnett County, Paulding County and Polk County. We are always open - 24 hours a day, 7 days a week including holidays. We have 11 locations which are conveniently located to serve you better. Visit us at www.bondjamesbondinc.com, or call Bond, James Bond, Inc. at (770) 382-9111.