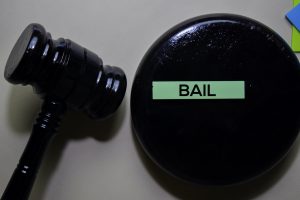 Being arrested, booked, and charged with a crime can be a frightening and disorienting experience, especially for first-time offenders. The way arrestees are processed differs slightly by jurisdiction, so it's not always easy to know what to expect.
When can you contact your family? When will you be brought before a judge? How is bail set? And how can you contact a bondsman? These are just some of the questions you may have if this is your first experience with the criminal justice system. To help make the process somewhat more transparent, let's look at how the bail and bonding process works in one of the areas we serve—Gwinnett County, Georgia.
Arrest & Booking
After an arrest is made, the person to be charged is taken to jail or a holding facility. Processing begins with a complete search of the arrestee's personal possessions. Any weapons, drugs, or other contraband are seized, and the detainee's personal belongings (such as cash, keys, and cellphones) are inventoried, bagged, and stored by the jail staff.
The booking process itself includes fingerprinting and a check for any outstanding arrest warrants that the detainee may have. The detainee will be asked to provide some basic personal information (name, address, etc.) before being photographed. At this stage of the process, detainees may also be asked to participate in a line-up or to provide a handwriting sample. Detainees cannot begin to pursue bail until physical processing is complete and all information has been added to the jail's computer system.
Making Bail
Once a detainee has been booked and all records have been updated, detainees are placed in a holding area with telephones that can be used to contact loved ones, arrange bond, or secure legal representation. In Gwinnett County, a custody and bail hearing are typically scheduled within 48 hours of arrest. At this time, the detainee is brought before a judge or magistrate for their first court appearance. Here, the charges against them are presented, and bail is set.  It's important to note that bail amounts are set by the courts, not by jail staff or Sheriff's department employees.
If you have been arrested, notify those who may be able to post your bail that you are in jail and give them the location where you are being held. Gwinnett County accepts the following forms of payment:
Cash—including traveler's checks, money orders, and certified bank checks. No personal checks are accepted.
Property—Gwinnett County accepts real estate as collateral but excludes titles to cars, trucks, and mobile homes. Property put up as collateral may be located anywhere in the state of Georgia. Ownership and equity will be verified before a bond is issued. Property bonds from out of state are not accepted. Land that is for sale is also ineligible as collateral for a bond. If a detainee owns land in Georgia but outside Gwinnett County, they must apply for an "Approved Bond" from the Sheriff's Department in the county where the property is located.
Tips
If you are the loved one or family member of a detainee, try to obtain as much information as possible about where the detainee is being held, the required bail amount, and the times when you may post bail. Also, work with a licensed, experienced bond agent, who can better explain the bonding process and can help ensure that you meet all court-mandated appearances.
At Bond James Bond, our licensed professional surety agents are experienced in helping clients navigate the often-confusing landscape of the bail bonds system. Our agents can help you secure pretrial release so you can better meet the needs of family and work while awaiting trial. If you or a loved one has been arrested, contact Bond James Bond today!
 ________________________________________________________ 
Bond, James Bond, Inc. can handle any size or type of Georgia bail bonds in Barrow County, Bartow County, Cherokee County, Clarke County, Cobb County, Floyd County, Gordon County, Gwinnett County, Paulding County and Polk County. We are always open - 24 hours a day, 7 days a week including holidays. We have 11 locations that are conveniently located to serve you better. Visit us at www.bondjamesbondinc.com, or call Bond, James Bond, Inc. at (678) 354-0070.