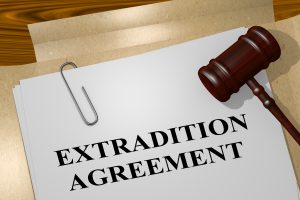 When a person is arrested and charged with a crime, he or she is required to stand trial in the state where the offense was committed. Some defendants, however, have other ideas. Once free on bail, they choose not to make their appointed court appearances and instead decide to flee. Known as "bail jumpers" or "skips," these defendants make a conscious choice to evade prosecution, and in the process, they default on their promise to the certified bond agent who paid their bail. Some fugitives go a step further by taking up residence outside the state where they are wanted. Extradition is an attempt by a state where a crime was committed to having a fugitive returned to face the charges against them.
What Defines a Fugitive?
Legally, a fugitive is any suspect in a criminal case who flees, escapes, or otherwise evades arrest or prosecution. If you are charged in a criminal case and are granted bail, you are required to make all court appearances stipulated by the judge or magistrate. Missing one court date won't necessarily result in your being declared a fugitive, though a bench warrant will likely be issued by a judge to secure your re-arrest. Fleeing outside your state jurisdiction, however, will trigger a series of events resulting in you being assigned fugitive status.
How Does the Extradition Process Work?
Once you are declared a fugitive, law enforcement in your home state (or the state where the crime was committed) may seek to extradite you for trial. But this is not a simple process and involves a series of steps that go as high as the Governor's offices in both the state seeking extradition and the state to where you have fled.
 Law enforcement in the state where a fugitive is wanted (also called the "Appointed Executive Authority" or "Requesting Authority") must formally request extradition of that individual from the state where they currently reside.

The Appointed State Authority must document its request by presenting indictment forms or affidavits issued by a judge or magistrate. These documents must show that the fugitive in question has been charged with a felony, treason, or other crime worthy of extradition.

All affidavits must be verified as authentic by the Governor or Chief Magistrate of the state seeking extradition.

Law enforcement in the state where the fugitive currently lives (also called the Receiving Executive Authority) must detain the fugitive and inform the Requesting Authority that they have the fugitive in custody.

 The Requesting Authority then has 30 days to pick up and return the fugitive to face trial. Failure to meet this 30-day deadline can result in the fugitive being set free.
Barriers to Extradition
There are several reasons that extradition could be denied. One is that the person being held by the receiving state is not the person named in the extradition request. Another is that the paperwork required for extradition is incomplete or contains errors. And a third is that the person named in the extradition request is no longer wanted for a felony in their home state. Keep in mind that such exceptions are rare and that clerical errors can be fixed and the extradition request reissued.
A final barrier to extradition is the time and expense required by the process. It is not uncommon for a state to decide which fugitives they choose to pursue through extradition. Typically states attempt to retrieve the defendants who pose the greatest risk to their communities, that is, those who've fled the most serious charges.    
At Bond James Bond, we offer professional courteous service to help our clients make bail and return to their communities while awaiting trial. Bail arranged through a certified bond agent helps defendants maintain employment and meet family obligations while they await trial. We also help assure that you make all court appearances required by the court. If you or a loved one have been arrested, contact Bond James Bond and discover how we can help.
---
Bond, James Bond, Inc. can handle any size or type of Georgia bail bonds in Barrow County, Bartow County, Cherokee County, Clarke County, Cobb County, Floyd County, Gordon County, Gwinnett County, Paulding County and Polk County. We are always open - 24 hours a day, 7 days a week, including holidays. We have 11 locations that are conveniently located to serve you better.